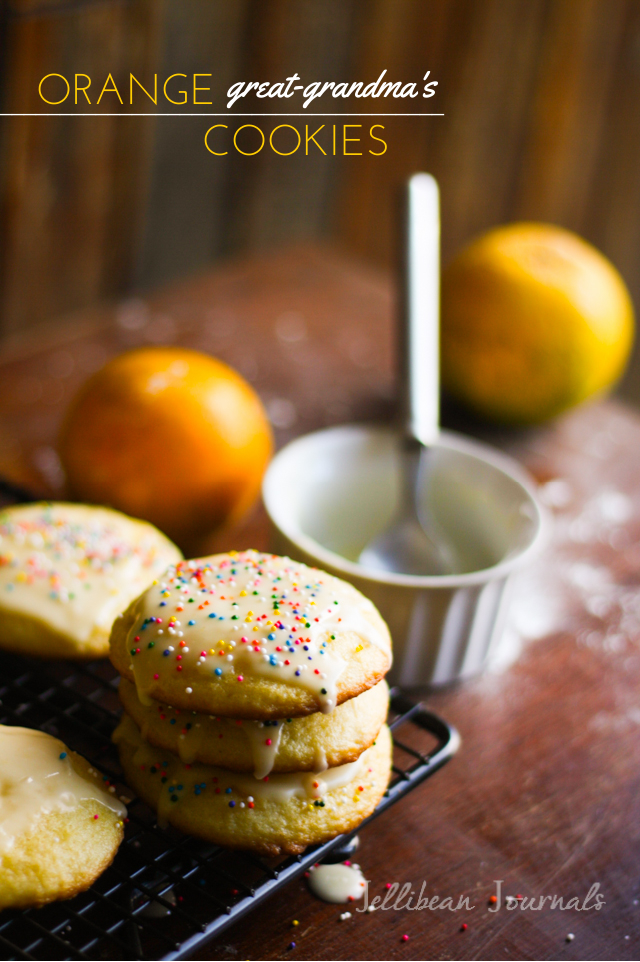 My Great Grandma was a force to be reckoned with in the kitchen. The women in my family had the bar set high. It took plenty of patience and practice on my mother's part to even come close to my father's grandmother's cooking.
Soft orange cookies are one of Great-Grandma Berndt's heirloom recipes. They're so brag-worthy that I baked them as wedding favors when Husband and I tied the knot. These soft orange cookies taste delicious and have a uniquely tender and almost cake-like texture. They're perfumed with fresh orange zest and flavorfully packed with sour cream.
Orange cookies come together quick, and spread into big, beautiful cookies as they bake. They grow so much in the oven that you should err on the side of caution and space them far apart on the cookie sheet to avoid the double-wide cookie phenomenon. Or, if you're like me, just grin and determine that all cookies that meld together are visually unappealing and by default become your personal sampling cookies.
Since the cookies are so soft and tender, they must be baked on a lined baking sheet. Use parchment paper or a
reusable silicon mat
, like I do. These cookies are best eaten the day they're baked because their moist crumb means they stick together like mad if you stack them. If you must stack and store be sure to layer orange cookies between wax paper or parchment.
Great Grandma's Orange Cookies
Ingredients
1 c. shortening
2 c. sugar
2 eggs
1 c. sour cream
1 t. baking soda
2T. baking powder
½ c. orange juice
4 c. flour
Instructions
Cream shortening.
Add sugar and cream well. Add eggs, sour cream, and orange juice. Don't worry if the batter curdles. It will come together as you add the dry ingredients. Add those now and mix until blended.
Drop by teaspoonfuls onto greased baking sheet. Bake at 350 12-15 min.
Allow to cool and glaze with a mixture of powdered sugar and orange juice. Store in an airtight container.
Notes
If you find that the cookies spread too much, refrigerate batter for 30 minutes before baking.
Which family recipes are your heirloom culinary treasures?
If you've posted the recipe, be sure to share a link below in the comments. We'd love to check it out!
Follow my Droolworthy Desserts Pinterest board and snag more sweet treat inspiration.



Follow on G+ | Like on Facebook | Tweet with me