Mr. Sun & I. We're not really besties.
Not that I burn, or don't love reading by a cheerful sunlit window. That's not it. I'm talking skin. As in skin protection. I'm ALL about UV protection for my skin and my family's skin too. If you ask anyone who knows me well, they'd probably tell you that I'm an oddball here in Costa Rica. I walk around town on sweltering days with long sleeves and a big floral-print sunhat. Yep, I'm that lady.
Enough about me. Let's talk summer sun protection for you and yours. If you're a water-lovin' family, as most are as the temperature rises this season, consider a simpler, less-messy alternative to sunscreen.
Protect your skin this summer with a rash guard.
Rash guards were made popular by surfers, and are now available for anyone who'd love to protect themselves from harmful UV rays.  it is basically a thin sun-resistant top that's rated for it's UV protection factor (most hover around UV 50). I'd never thought much about rash guards until we went to the beach in May with some pals in Italy. All three of their little boys hit the sand in wetsuits, and the mama in a rash guard. What a great idea! Wearing a rash guard, you don't have to slather as much sticky chemical sunscreen all over your body. These come in sizes for the whole family. Last weekend, we went to the mountains with friends, where her baby showed up to his pool date with Summer Elizabeth in none other than the tiniest little rash guard I've ever seen. He pretty much rocks it, right?
Save your skin. Save your time. Get yourself a rash guard.
This week I'm co-hosting the Simple Steps to Healthy Living linky party with
Kristine
! We're so excited you're here and cannot wait to see what you have to share with us.
I'll let her take it from here:
If you're a regular on my blog, you know that I'm passionate about making things easy, especially if I'm really committed to it. I rarely follow a recipe if it has more than 5-6 steps and I'll rarely make something a habit if it seems to hard or overwhelming!
One of my goals when I first started blogging was to show that it's possible to overhaul your lifestyle, one  step at a time so that it doesn't seem too overwhelming. I hope that I accomplish this when I do my
simple steps to healthy living!
I'm so excited to share this journey with you! And have you share what you've learned as well! And I'm thrilled to have some wonderful ladies with me today co-hosting!
Congrats ladies!
Feel free to grab the button.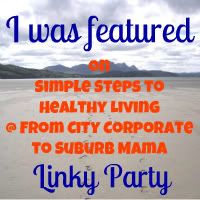 And now, for the rules…I'll try to keep them simple 🙂
1. Follow me and all my co-hostesses
2. You can post about anything you want, as long as it's a simple step towards a healthier lifestyle including tips for "green" living. I will ask that you avoid the following:
no artificial ingredients
3. Share the love. Check out at least 3-4 other posts and introduce yourselves. The thing I love most about linky parties is that you get to meet so many amazing people!
4. Have fun!! 🙂
I'd also love to have you put the button on your post or blog somewhere so that it's an actual "link" party! 🙂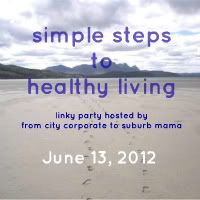 And thank you so much for participating!! I'm thrilled that you're here and sharing with the rest of us!
Linking here: