Stuck it a rut coming up with sensory activities to keep your baby entertained and learning? Trust me, I know it's not always easy getting those creative juices flowing when you've got little ones around keeping you beautifully busy in that oh-so-rewarding job of motherhood.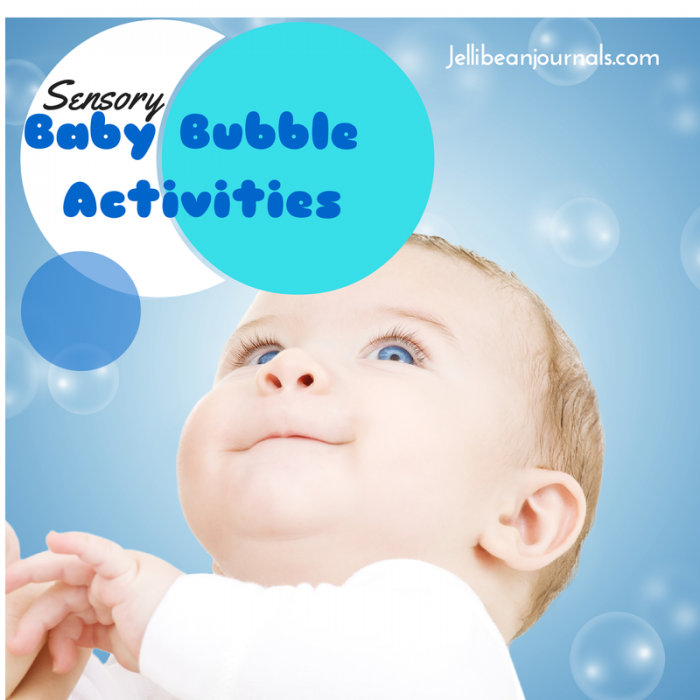 Bubble activities for infants are a great way to both amuse your child and get him interacting with his world in a brand new way. Mom was right about bubble activities for infants being a go-to for all mamas' toy chests.
Here's what you'll love about baby bubble play:
No cleanup required!
Technology-free
Costs you nothing (or next to nothing.)
Baby's giggles throughout these sensory activities are priceless.
Gains you time to tidy up the house.
Babysitter-approved and simple enough for older siblings to set up. Hel-LO 20 minutes of goal-setting time!
Easy and fast to put together and most require no shopping trips.
Breaks you out of playtime monotony.
Of course, you could just immerse your baby in a tub full of suds (I love this organic baby bubble bath!) but it's fun to watch your curious little cutie shriek in delight as they discover bubbles in brand new ways. Pull out some homemade bubble solution, and watch your baby experiment with all kinds of bubble fun! These activities are great for indoor or outdoor play and can be put together in just a few minutes.
Baby Sensory Play Bubbles from The Imagination Tree
Bubble Discovery Bowl from Plain Vanilla Mom
Bubble Discovery Bottles from Lessons Learnt Journal
Rainbow Suds Sensory Play from Growing a Jeweled Rose
Bubble Pool from Plain Vanilla Mom
What is your favorite way to play with bubbles? Share your story in the comments, we'd love to hear it!
Don't miss the other posts in the bubbles series!