Last week we went a little crazy and had some fun with Jello play. It was messy & sticky and smelled amazing like only raspberry and lime gelatin can. Summer Elizabeth loved playing out in the front yard scooping Jello from container to container, throwing it into the air, and squishing it around with her little toddler fingers. I liked eating it…before it was coated in grass. Amazingly enough, Summerbeth didn't even attempt a nibble for at least 40 minutes into playtime!



Of course, after our afternoon of gooey sticky fun, I have a few helpful tips to make Jello play most enjoyable & easy to clean up:
Add less water to gelatin than the package recommends. It'll be sturdier for play.
Use unflavored gelatin. Mix it with water & food coloring. —> No sugary stickiness!
Jello play works best in messes-don't-matter zones, like the yard or a room with tile flooring.
Have damp washcloths or wet wipes on hand near the play area so you don't have to touch doorknobs with Jello'd fingers at clean up time.
Time Jello play around bathtime. That way you can just scoop up your toddler, stick him in the bathtub, and suds him right up.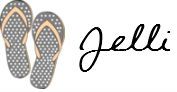 Follow on G+ | Like on Facebook | Tweet with me
Linking here: Pinning for Play