Tarte citron lemon muffins are as enticingly scrumptious as the Lindt chocolate bar that inspired their creation. Here's the story!

Just weeks after meeting my husband we were separated by the Atlantic. For a LONG time.
He was leading a group into the wild, uncharted territories of the Amazons and I was flying to the frozen land of fairy tales, Lindt country, Switzerland. It would be months before we'd see each other again.
As June rolled around, our AIM chats became more giddy and hopeful, both of us eagerly anticipating the summer backpacking trip we'd planned. Husband (then bf) would fly to Switzerland and then whisk me around to the most romantic cities on Earth.
Heaven only knows how our plan actually worked out.
Husband had forwarded me only his flight itinerary and had never asked for my contact info in Switzerland. How was he to find me? Where would he go from the Geneva airport?
God's hand beautifully maneuvered the whole thing, once his arrival date finaaaaaally came. A friend accompanied me on a stroll over the green mountain slopes to the nearest rail station. We prayed we'd come at the right time, merely estimating when Husband's train should've been arriving based on flight info and assuming he'd figure where to get off the train.
He'd never been to Europe. He spoke no German or French. He had no cell.
Ten minutes went by. Twenty. Where was my Prince Charming? Would he get off the rail at this particular station? Had his flight been delayed?
After a bit more waiting he arrived, beaming.
We hugged and I gave him an earful for not having planned his arrival with me at all. I suppose it's the masculine sense of adventure that swept him away, but goodness, this organization junkie was nervous wreck.
Longer story short, we had the most brilliant Euro adventures we could've ever dreamed of. It was there that I was introduced to his favorite candy bar, Lindt's sadly now discontinued Tarte Citron Meringue bar. Imagine bits of smooth-tart lemon buried in silky mouthwatering milk chocolate. Brilliant.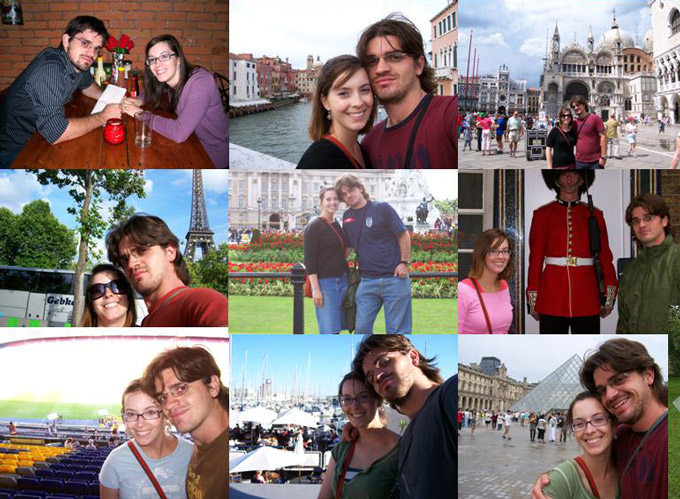 Though it's been more than 7 years since our first Euro adventures, the memories are vivid as ever, just like the flavor of these buttery Tarte Citron Lemon muffins inspired by my hunky husband's favorite Lindt bar.
This week my family is house sitting and the lush fruit trees in the backyard are magnets for my older kids. They wake up eager to climb the trees and yank down juicy naranjillas, a lemon of sorts. When they showed up at the doorstep handing me their tart tree booty, I knew exactly what to bake.
Tarte Citron Lemon Muffins, of course!
These lemon muffins are adapted from a recipe in this Dorie Greenspan book and are easy enough to bake with the kids- I did! They're the basic add-wet-to-dry-and-stir-in-chips kind of muffins. Pop them in the oven for 15 minutes and drizzle those bad boys with more chocolate ganache and BAM! You're done.Fill

Tarte Citron Lemon Muffins
Ingredients
For the Muffins:
⅔ cup sugar
zest and juice of 1 lemon
2 cups all-purpose flour
2 teaspoons baking powder
¼ teaspoon baking soda
¼ teaspoon salt
¾ cup sour cream
2 eggs
1 teaspoon vanilla extract
1 stick (1/2 cup) butter, melted and cooled
½ cup semisweet or milk chocolate chips
For the Ganache:
½ cup chocolate chips
½ cup heavy cream
Instructions
Muffins: Preheat oven to 400 degrees F. Grease or line 12 muffins cups.
Combine sugar and zest. Whisk in the flour, baking powder, baking soda and salt. In a small bowl, whisk the sour cream, eggs, vanilla, lemon juice and butter until well blended.
Pour the liquid ingredients over the dry ingredients and gently stir to blend. Don't overmix. Stir in the chocolate chips. Divide the batter evenly among the muffin cups.
Bake for 18-20 minutes, or until the tops are golden and a thin knife inserted into the center of the muffins comes out clean. Cool for 5 minutes before carefully removing each muffin from its mold. Cool the muffins completely on the rack before topping with ganache.
Ganache: Heat cream until it's near a boil. Pour over chocolate chips and let it sit for 1 minute. Stir until smooth. Cool until it's a good consistency to drizzle. Use a teaspoon to drizzle chocolate over the muffins or spoon it into a Ziplock bag and snip off the corner to drizzle. Serve.
Recipe adapted from Baking: From My Home To Yours by Dorie Greenspan
Fill your muffin basket with more family favorite muffin recipes!
Wholesome Carrot Spice Muffins
Red Lobster Garlic Cheddar Biscuit Copycat Recipe
Chocolate Cookie Muffins