Hold onto your hats, because this cinnamon roll ice cream is gonna blow your mind! Start with cinnamon ice cream. Add a tangy cream cheese swirl and toss in gobs of cinnamon roll bites. Whip this up in 15 minutes, no ice cream machine required!
And it is studded with chunks of chewy cinnamon roll. Because life is better with gobs of cinnamon rolls.
Sometimes the best laid plans just don't go as planned. During June I had high expectations to work out to  finally achieve ripped abs;  totally vain, I admit. I wanted to prove to myself that moms can have rock hard midsections too. Nevertheless, my six pack endeavors were waylaid by an everlasting cold. It started as a sore throat, became a lower respiratory infection and then finally a typical head cold… and lasted the entire month. So much for my abs of steel.
Actually, I did get flat abs last month because of that blasted cold.
Why? I couldn't taste food for  about two weeks. TWO WEEKS! No seconds, no decadent desserts, no satisfaction.
Do you know how discouraging that is for a foodie? Eating becomes routine if you can't get any palette pleasure from it.
As soon as that glorious day came when I could almost smell my chocolate cupcakes baking, it was time to CELEBRATE!! And celebrate I did, with this incredible cinnamon roll ice cream.If you're ever in a bind for easy ice cream recipes, then you'd better have this homemade ice cream recipe in your arsenal! It's a goldmine. The base is a simple mixture of heavy cream and sweetened condensed milk. To that you can add just about any mix-ins or flavorings you'd like and almost always end up with some outstanding ice cream.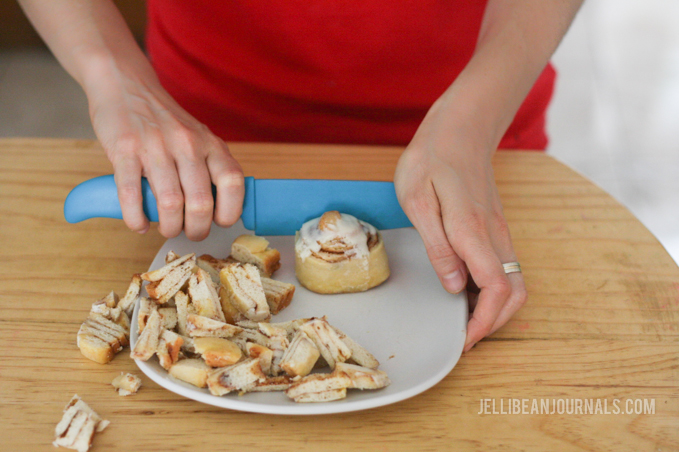 Here's how we'll make it. First, chop up 3 cinnamon rolls. Eat the gooiest bits because you're the chef and it's your prerogative. Beat together the cream cheese frosting. Then make the cinnamon ice cream by whipping the cream and stiring in the sweetened condensed milk and cinnamon. Layer it all in a loaf pan and freeze. Couldn't get much easier!
Now, you could use store-bought cinnamon rolls or the bake-and-eat tube variety, but nothing beats homemade cinnamon rolls! A friend gave us some cinnamon rolls while I was sick and everything tasted like cardboard, so I stashed those treasures in the freezer for later nibbling. Those frozen rolls inspired this ice cream that you and your pals will absolutely go bonkers for!

Cinnamon Roll Ice Cream
Ingredients
Cinnamon ice cream base
1 can sweetened condensed milk
1 cup heavy cream
2 tablespoons cinnamon
pinch salt
Cream cheese frosting swirl
3 tablespoons butter
6 oz. cream cheese
1 cup confectioners' sugar
½ teaspoon vanilla extract
3 tablespoons milk
Instructions
Chop 3 cinnamon rolls into bite sized bits and freeze.
Make cream cheese frosting by beating cheese and butter until smooth. Add remaining ingredients and beat until everything is mixed together. Set aside.
Whip heavy cream to a bit beyond soft peaks and stir in sweetened condensed milk and cinnamon.
Assemble ice cream by layering cinnamon ice cream base with cream cheese frosting and cinnamon roll bits into a loaf pan. I arranged mine: ice cream-rolls-frosting-ice cream-rolls..
If you're an ice cream fiend, don't miss these droolworthy homemade ice cream recipes!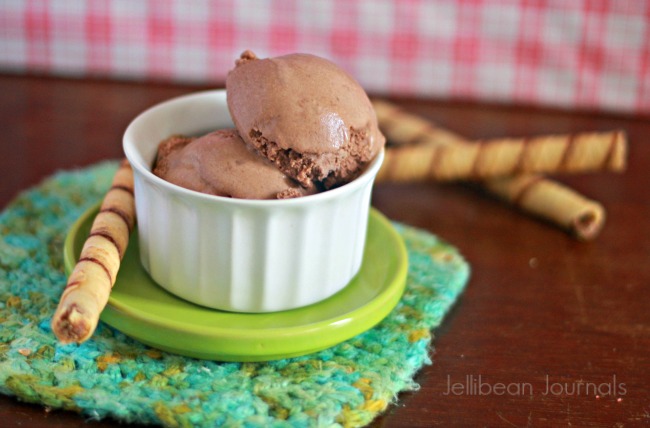 Brownie Batter Ice Cream
Lemon Semifreddo
Mango Sorbet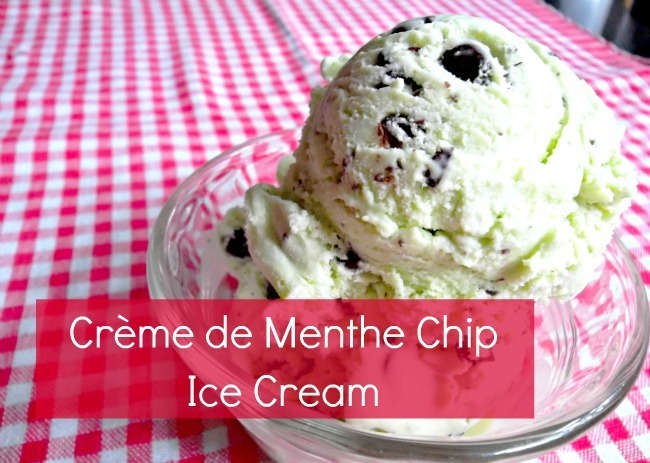 Creme de Menthe Chip Ice Cream